New 'Forsa' Credit Card Exclusively for UAE Nationals Unprecedented Savings on Both Credit Card Interest Rates and Payments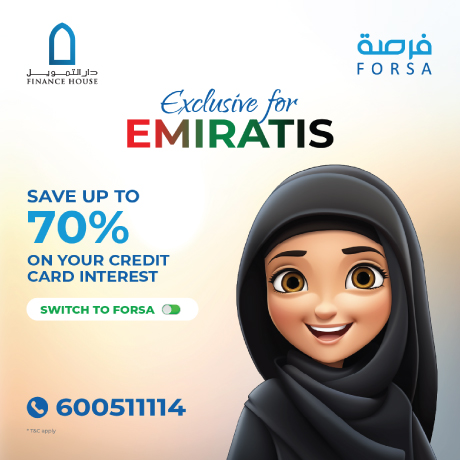 Abu Dhabi, UAE, 18 October 2023: In a significant move aimed at transforming the credit card offerings for UAE nationals, Finance House proudly announces the launch of its revolutionary credit card, "Forsa." The Forsa proposition is set to have an immediate and positive impact on the lives of UAE nationals, offering unmatched benefits targeted at improving their financial well-being.
With the introduction of Forsa, UAE nationals gain the unprecedented opportunity to consolidate their credit card debts into a single card, unlocking substantial savings on interest rates paid on other credit cards with flexible repayment options.
Simply, Forsa credit card has been specifically tailored to alleviate the financial burden faced by many UAE nationals who pay high interest rates on their credit cards. UAE nationals can now enjoy a remarkably low credit card interest rate of 1.25% which brings a substantial decrease in monthly interest compared to market rates ranging from 2.9% to 3.85% per month. Forsa promises potential monthly savings of up to 70% in interest!
"With the launch of the Forsa Card, we are committed to empowering UAE nationals with unprecedented savings on their credit card interest," said the CEO of Finance House Mr. TK Raman.
He added: "The launch of Forsa showcases our commitment to the financial wellbeing of UAE Nationals by merging affordability, convenience, and empowerment. The Forsa Card is poised to drive strong traction among UAE nationals seeking relief from the expensive debt accumulated on their credit cards."
With potential savings on credit card interest rates going up to 70%, individuals can also enjoy monthly credit card payments reduced compared to any other credit card. Unlike the standard 5% minimum repayment, the new Forsa offers flexible repayment options with a minimum repayment rate of just 2%. This feature is especially beneficial to customers who want to effectively manage their finances, repay the debt at lower interest and ultimately achieve their financial goals. By consolidating credit card debts into a single card, UAE nationals can bring relief to their monthly burden through a combination of lower interest and monthly repayment.
Commenting on the introduction of Forsa, Finance House Head of Consumer Financial Services Mr. Fahd Bin Amjad said: "High Credit Card interest rates easily compound debt, leaving many with large financial burdens. We believe with Forsa, we are offering a solution to pay off expensive debt at the lowest rate in the market combined with the most affordable repayments. It is designed to discipline repayments while freeing up cash to relieve our customers from the monthly recurring expenses."
He continued: " For customers to evaluate the benefits, we have developed a smart savings calculator which is now featured on our website. Customers can simply enter the balance and interest rates paid on other credit cards held, and the savings and repayment flexibility is automatically calculated when they switch to Forsa by Finance House. "
Eligible customers are warmly invited to apply for the Forsa Credit Card and commence their journey towards true financial freedom. As always, Finance House remains resolute in its mission to uplift the UAE Nationals by providing tailored financial solutions that truly serve their unique needs. For more information visit www.financehouse.ae or contact Finance House on 600511114.