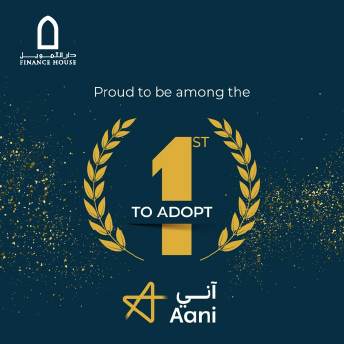 "In alignment with the UAE's vision for state-of-the-art payment solutions"
 Abu Dhabi, UAE – 17 October 2023: Finance House LLC, a leading financial institution known for its commitment to innovation and leadership, proudly announces its latest achievement as one of the pioneering financial institutions to adopt the revolutionary Aani instant payments platform making the technology available to its customers through the Finance House Mobile App.
Aani represents a progressive technology that is poised to transform the traditional landscape of payments and financial transactions in the UAE. In a notable milestone, Finance House achieved history-making status by successfully executing the initial money transfer on Aani via its mobile app. By becoming early adopters Finance House reinforces its dedication to staying at the forefront of industry advancements at a time marked by rapid technological advancements.
"Aani is more than just a platform; it represents the future of payments driving growth in the UAE by providing state-of-the-art payment solutions for its residents. We share our heartfelt congratulations to the Central Bank of the UAE (CBUAE) for ushering in a new era of payments, setting the stage for accelerated growth and development in the UAE." said Finance House Founder Mohammed Alqubaisi.
"We extend our felicitations to El Etihad Payments for their unwavering commitment to enable transformative change in the financial sector in the UAE with the launch of Aani - the Instant Payments Platform" Alqubaisi added.
The Aani Instant Payments Platform enables bank transfers to occur in a mere ten seconds, 24/7, anytime and anywhere in the UAE. Finance House customers wishing to access this technology can register to Aani through the Finance House Mobile App.
"Whether splitting a restaurant bill with a friend or managing monthly expenses, Aani accommodates a range of financial needs easily and efficiently. At Finance House, we are committed to championing such initiatives to ensure our customers always have the best, most efficient tools," added Shino Thomas, Chief Technology Officer at Finance House.
In conclusion, Aani stands as a testament to the UAE's commitment to fostering a progressive financial landscape. As we embrace this new chapter, Finance House is excited and honoured to participate in this journey, ensuring that our customers experience the future of payments today.
Ends