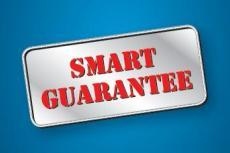 Abu Dhabi, November 26, 2007- Finance House PJSC has launched a new product called "Smart Guarantee" which is targeted for small, medium and large sized business establishments operating in the UAE, whereby all sized business establishments can issue their Labour Guarantees from Finance House PJSC with added value benefits.
With "Smart Guarantee", business establishments can earn interest on their Labour Guarantee Deposits with absolutely NO charge or commission for issuing their Labour Guarantees and with quick processing and turnaround time.
Speaking on the occasion, Mr. Mohammed Alqubaisi, Chairman of Finance House commented: "Smart Guarantee is an ideal opportunity for every business establishment that seeks to maximize its earnings against their cash margins deposits for the purpose of issuing Labour Guarantees.
Mr. Alqubaisi added, "This new product underlines our continuous focus and commitment in introducing new and innovative products. All our products' launches during this year – Flexi Deposit product for corporate clients, home mortgage loans, and executive finance to individuals, in addition to the our latest product "Smart Guarantee" – exemplify our persistent efforts to create value differentiation for our highly valued customers and to meet and to exceed their expectations".