T.K. Raman Receives "Excellence in Finance" Award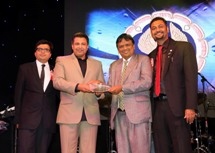 T.K. Raman, Group Chief Financial Officer of Finance House, was recently recognized with the "Excellence in Finance" award during the Silver Jubilee Annual International Seminar of the Abu Dhabi Chapter of The Institute of Chartered Accountants of India that was held in Abu Dhabi on November 14 and 15, 2013. Handed once per year to super achievers in the finance & accounting profession, the award recognizes outstanding work and significant contribution to the UAE finance industry over the years.
TK Raman is a seasoned professional with over 3 decades of diversified experience in banking, international payments and finance. Prior to joining Finance House, TK held a number of senior positions with leading UAE banks and MasterCard Worldwide, in an impressive career that is distinguished by his in-depth knowledge and outstanding communication skills.