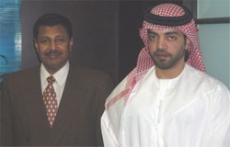 UAE, February 13, 2007 - Finance House PJSC, a leading financial institution in the UAE believes in offering "real value" benefits to its customers. The company recently launched an exciting "Win 365 Days a Year" promotion for its credit card holders. Every time a Finance House credit cardholder makes a purchase or cash withdrawal transaction, he/she is automatically entered into a daily raffle draw to win back the amount of the purchase or cash withdrawal transaction, up to a maximum of AED 1,000 per winning transaction. There are 5 winners everyday, 365 days a year- a total of 1,825 winners in a calendar year!! One of the key attractions of this promotion is that cardholders, who use their Finance House credit cards frequently, have better chances of winning again and again.
Since 1 Jan 2007, more than 150 delighted cardholders have already received their winning amounts by way of credit into their Finance House credit card accounts. The other outstanding feature of this promotion is its simplicity. All that the cardholder has to do is to use the Finance House Credit Card for purchases or cash withdrawals and the rest is all taken care of. According to
Mr. T.K. Raman, Chief Operating Officer, Finance House, "Customer delight is a necessary pre-condition to build customer loyalty. We at Finance House are constantly on the look out for innovative ways to reward and delight our customers. This unique and perhaps the largest credit card promotion in the UAE in terms of duration (365 days a year) and number of winners (1,825 winners a year) is a testimony of our ability to come up with exciting and innovative ways to delight our customers.
We have created an excellent promotion platform that gives every Finance House credit cardholder multiple opportunities to win, all year round. We are confident that this promotion will get an excellent response from existing and prospective credit card customers in the UAE. In addition to the exciting opportunity to win everyday, Finance House credit cardholders can also enjoy a host of other outstanding benefits such as: Zero Annual fee for life, Credit Shield, a death and disability insurance cover starting from just AED 5 per month, 13 months comprehensive auto insurance starting from just 3.25% on new and used saloon cars & 4X4 vehicles and a very low interest rate of just 1.25% per month (reducing balance basis) on credit card balance transfers until full repayment, with no prepayment penalty. "On every count, the Finance House credit cardholder enjoys demonstrable real savings, that could run into thousands of dirham annually", Mr. Raman added.