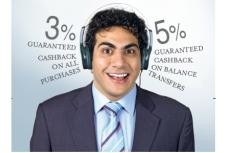 Abu Dhabi, March 2, 2009- Finance House has launched two attractive cash back schemes on its full range of Standard, Gold & Platinum Credit Cards.
Under the first scheme "3% Guaranteed Cash back on all Purchase Transactions", all successful new credit card applicants can enjoy a whopping 3% guaranteed cash back on all their purchase transactions during the first 90 days of obtaining the Finance House Credit Card, followed by a 1.50% guaranteed cash back on all their purchase transactions thereafter. This scheme is very attractive to customers who use their credit cards extensively for shopping, travel and other day to day expenses.
The second scheme "5% Guaranteed Cash back on Balance Transfers" will immensely benefit customers who carry high revolving balances on their credit cards with other banks. Credit Card customers across the UAE can instantly reduce their outstanding credit card debt by 5%, simply by transferring revolving balances carried on their other bank credit cards to their Finance House Credit Card. This instant 5% debt reduction is effected through a Cash back mechanism that is transparent & easy to understand.
The maximum annual Cash back reward on Purchase Transactions is capped at AED 2,700 per Platinum Card, AED 2,025 per Gold Card and AED 1,350 per Standard Card. There is no maximum limit for cash back reward on Balance Transfers. Considering that there is no annual fee or joining fee for the Card, these Cash back rewards are extremely generous and expected to generate encouraging response from value conscious UAE residents.
According to Mr. T.K Raman, Chief Operating Officer Finance House, "We have earned a reputation for creating innovative product propositions that offer outstanding value to customers in pre-identified niche market segments. Loyalty is a two way street. If we expect customers to use our products & services over competitors', then we have to first exceed their expectations in terms of tangible value & rewards structure. This is precisely what we have done with this incredible "twin cash back offer".