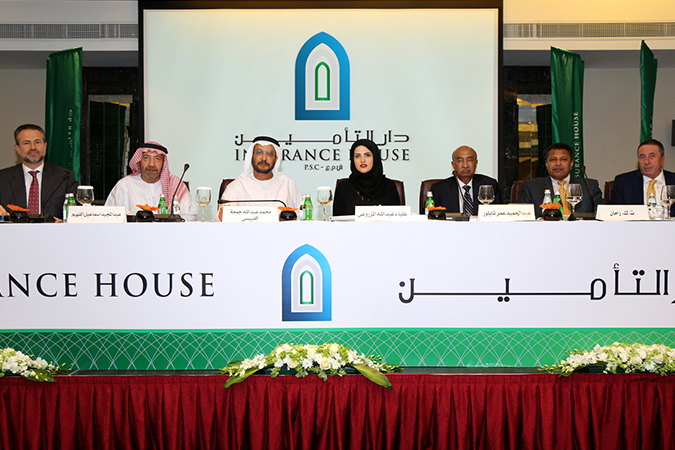 Abu Dhabi – March 21, 2018 – Insurance House PSC (IH) held its sixth Annual General Meeting and presented encouraging financial results to its Shareholders for the year ended 31 December 2017.
A net profit of AED 8.12 million was registered for the year ended 31 December 2017. Gross Premiums Written (GPW) during this reporting period totaled AED 213.47 million. 43% of Total Assets (AED 109.08 million out of AED 254 million) are now in cash or cash equivalents.
In his address to shareholders, Mohammed Abdulla Alqubaisi, Chairman of Insurance House, said: "During 2017, IH demonstrated a remarkable turnaround in its business operations by registering a Net Profit of AED 8.12 million for the twelve months ended 31 December 2017, compared to a Net Loss of AED 19.04 million registered in the previous year. This is a very encouraging sign for the Company, and augurs well for sustained profitable growth in the near future."
In compliance with regulatory requirements, IH exited from several high yielding, investment grade fixed income securities that were not "A" rated. This resulted in a substantial increase in cash and cash equivalent assets (43% of IH Total Assets).
In addition, Al Qubaisi stated: "Net Underwriting Income for the year ended 31 December 2017 catapulted to AED 41.38 million compared to AED 5.15 million for the previous year ended 31 December 2016.
Despite intense competition, a tighter regulatory framework and elevated pressures on input costs, the Company's business portfolio grew significantly, both in terms of top-line and bottom-line, due to a series of carefully planned strategic and tactical measures implemented across all business lines. We are confident of maintaining this significantly improved growth momentum in 2018 and beyond."
In closing, Alqubaisi said: "We remain optimistic of our profitable growth potential in the near future. Our strategy is to continue to offer reliable insurance products coupled with superior service quality. Going forward, we seek to achieve enhanced profits not only from our core insurance activities that are already delivering stellar results, but also through redeploying our cash pile in a well-diversified investment portfolio that is fully compliant with Insurance Authority regulations".