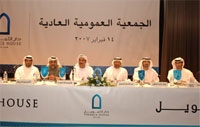 Abu Dhabi, February 15, 2007 - At its Annual General Meeting held last night, the shareholders of Finance House pjsc approved a maiden cash dividend of 50 per cent. This comes on the back of strong earnings. The company recorded a net profit of AED 160.6 million, an increase of 19% over a comparable 12 months of the previous period.
In his address to the shareholders, Finance House Chairman Mohammed Alqubaisi said: "Our performance constitutes a significant achievement – in value as well as in the quality of our earnings. It underpins an exceptionally strong culture of delivering value to our customers and the urge to be agile - the two attributes that truly drive our performance. "
"We kept to our strategy of growing the core assets while staying within acceptable risk parameters," he continued. Finance House's total assets grew to AED 1.3 billion, up 24% on the previous year, and shareholders' funds stood at a robust AED 724.3 million. Customer deposits grew 220% to reach AED 404.5 million while Loans and advances were up 110% to AED 348.7 million.
"I am very pleased with the level of confidence we have earned amongst investors, depositors and banks, as reflected in their commitment to our initiatives and funding plans. The Finance House brand has been firmly established in the market within a relatively short time and today enjoys high recognition." he added.
"During 2006 we added significantly to our pool of management talent with the appointment of some very experienced professional bankers. I am very confident that the enthusiasm of our people, and their commitment and determination, will ensure that the success achieved thus far is replicated in 2007." Alqubaisi added.
"The future will bring major challenges and opportunities for Finance House. The financial services sector is ever more competitive, and regulation continues apace. Market segments that we have previously regarded as niche are becoming more mainstream as institutions, with considerably greater resources than those available to us, awaken to the opportunities afforded by these business areas.
For our part we will continue to review our strategy to ensure that we identify profitable niches in which to operate. We will concentrate our resources in those areas that we believe will offer the best sustainable returns in the medium to long term. We will also complete the geographic expansion process which we initiated in 2006." he concluded.