Finance House Secures 3 Year Revolving Funded Facility from National Bank of Bahrain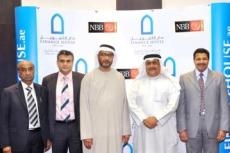 Abu Dhabi, 16 January, 2011- Finance House PJSC (FH) and National Bank of Bahrain B.S.C (NBB) has signed a financing agreement for a 3 year revolving funded facility.
FH intends to use this medium term facility provided by NBB to fund the continued growth of its lending book and to meet general working capital requirements.
Chairman of Finance House, Mohammed Alqubaisi said: "We are pleased to have secured this medium term funding from NBB which is one of the region's leading banks and a respected lender. Our ability to secure medium term funding from NBB is a glowing testimony to the solid financial standing of Finance House and reinforces the confidence & trust placed in us by our leading banking partners".
"Finance House will forge ahead with its strategy of measured growth in niche market segments and pursue a conservative approach to liquidity management, both of which have proved to be fundamental necessities in the past, and shall continue to be so in the future", added Alqubaisi.
National Bank of Bahrain, Country Head-UAE, Harshdeep S.Munjal, said: "National Bank of Bahrain has been conducting high quality business in the UAE for the last 28 years. Our predominant focus has been on building long term bilateral corporate relationships with highly respected organizations in the UAE. The recent Finance House facility is in sync with this strategy. We are looking forward to growing our asset base in the UAE, exponentially over the foreseeable future".
The signing ceremony took place at Finance House's headquarters in Abu Dhabi and was attended by Mohammed Alqubaisi, Chairman, Hamid Taylor, GM & T.K.Raman, GCFO of Finance House. National Bank of Bahrain was represented by Harshdeep S.Munjal, Country Head – UAE, Eyad Y.Sater, Abu Dhabi Branch Head.