Finance House Relocates its Dubai Branch to Ensure Premium Quality Customer Service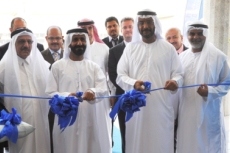 Dubai, 05 October, 2010 - Finance House PJSC announced today it has relocated its Dubai branch to a newly designed and easily reached facility, in a move that reinforces its commitment to providing value-added financial solutions to its customers in Dubai.
Located on Sheikh Zayed Street, just 1 km away from its old location, the new infrastructure offers a number of advantages as compared to the previous premise, featuring a design upgrade that encompasses a friendly and bright feel, highlighting Finance House brand values to deliver the highest levels of customer service in a convenient and efficient manner.
At the inauguration, Mohammed Alqubaisi, Chairman of Finance House, stated: "Finance House has always been committed to follow the economic diversification scheme implemented under the visionary leadership of the country's President and Ruler of Abu Dhabi, His Highness Sheikh Khalifa Bin Zayed Al Nahyan and HH Sheikh Mohammed bin Rashid Al Maktoum, UAE Prime Minister and Vice-President, and Ruler of Dubai".
"Finance House consistently works on the improvement of its internal processes, technology and value addition to ultimately benefit customers and partners. The new branch was relocated and designed to meet our customers demand for a more personalized and relaxed banking atmosphere, offering them exceptional financial services. Customers coming into the new branch should feel at home and be at ease when it comes to discussing their finances" added Alqubaisi.
The new branch will offer a full range of corporate, commercial, and retail financial services in addition to investments services which will be handled by Finance House's affiliate, FH Capital.
Finance House has three branches spread across the UAE, including its Headquarter in Abu Dhabi, the relocated Dubai branch, in addition to the Sharjah branch, which was opened earlier this year. All the branches operate and welcome customers from Saturday till Thursday between 8am and 5pm.