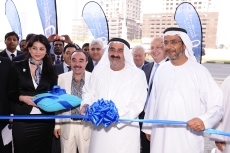 Abu Dhabi, January 18, 2010 – In line with its UAE branch network expansion strategy, Finance House PJSC today announced the opening of its first branch in the emirate of Sharjah. The new branch is strategically located on Al Taawoun Street, within walking distance from the Sharjah Expo Centre as well as the Al Taawoun Shopping Mall.
Sharjah is a bustling industrial, retailing, educational and travel hub in the UAE. The emirate is home to a growing population of small and medium sized business enterprises as well as a large number of salaried middle and upper middle class families- both local and expatriate. Finance House's team of highly experienced, customer friendly staff on the ground will primarily focus on serving these two niche customer segments. The financial needs of larger sized business entities will be serviced by dedicated Relationship Managers and Structured Finance Specialists from the Commercial and Corporate Finance Division.
For salaried individuals, Finance House offers a range of innovative financial products and services including credit cards, personal loans, mortgage finance and auto finance. For small and medium sized enterprises, Finance House offers a variety of deposit and loan products and services including flexi deposit accounts, overdraft facilities, term loans, letters of credit, letters of guarantee and WPS Compliant Payroll Solutions.
"Selective expansion of the branch network is part of our core strategy to raise Finance House's profile and reach across the UAE over the next few years. We already are a highly active and visible financial services brand in Abu Dhabi and Dubai. With the opening of our Sharjah branch, we aim to make our complete range of financial products and services available to discerning individuals and businesses in Sharjah and other Northern Emirates" said Mr. Mohammed Alqubaisi, Chairman Finance House.
He also added that "Under the current market scenario, SMEs are finding it increasingly difficult to sustain and grow their businesses in the absence of financial institutions that are focused on servicing their unique needs. This is a prime area of interest for Finance House and we are determined to play a key role in offering tailored financial products and services to this deserving and yet underserved business segment."
The Branch will be operating and welcoming customers from Saturday till Thursday between 8am and 5 pm.