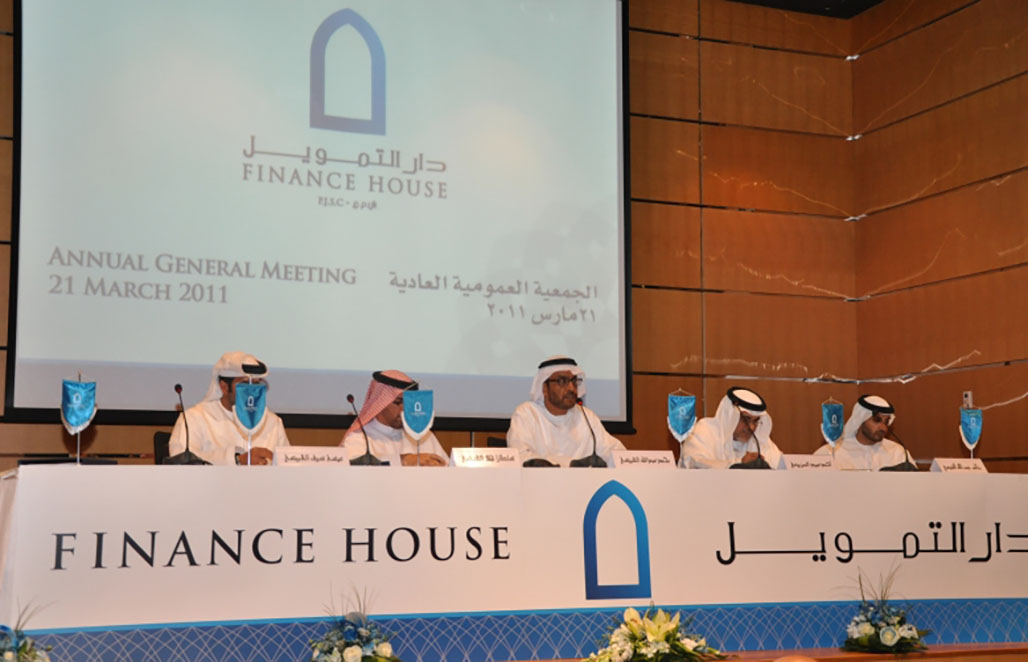 Abu Dhabi, 21 March, 2011- Finance House PJSC shareholders approved the payout of a cash dividend of 15% and a stock dividend of 10%, during the Annual General Meeting held at the Emirates Institute for Banking and Financial Studies (EIBFS) in Abu Dhabi. The Shareholders' approval is in line with the recommendations made by the Company's Board of Directors.
For the year ended 31 December 2010, the company recorded a net profit of AED 115.1 million, arising predominantly from core business activities. Total Assets registered an impressive growth of 15% to reach AED 3.12 billion as at 31 December 2010. Customer Deposits scaled a new peak to reach AED 1.57 billion as at 31 December 2010, reinforcing the continued credibility and impeccable reputation of Finance House in the market.
In his address to the shareholders, Chairman Mohammed Alqubaisi said, "Early in the year, we shifted our focus towards economic sectors that were contributing positively to the growth of the UAE's non-oil GDP viz. industrial, healthcare, retail, logistics, transportation and education. This shift is consistent with our policy of growth with restraint in pre-identified niche segments and was instrumental in boosting our income from core business activities".
While commenting on recent events, Alqubaisi said, "Intensifying and widening political instability across the MENA region has clearly unsettled investors and dampened business sentiments. We sincerely hope that setbacks on this count are temporary and that the region as a whole will bounce back rapidly as governments and leaders show urgency to resolve genuine grievances of the people while enforcing law and order".
"The UAE, which is our key focus market, has demonstrated remarkable stability, thanks to its wise leadership; hence it would prosper from being the oasis of stability and security in the region. We continue to maintain a close vigil on developments as they unfold, but at the present time, we do not envisage any material changes to our business strategies or near-term growth objectives", Alqubaisi added.
Looking ahead, Alqubaisi concluded, "We have entered 2011 with a strong capital base, clear business strategies, a well diversified asset book, and a range of interesting opportunities to exploit profitably. Our priorities are to balance near-term results with long-term growth and to ensure that the rewards we seek are commensurate with our risk appetite. We shall continue to channel our efforts towards meeting our customer expectations consistently and in creating value for our shareholders".