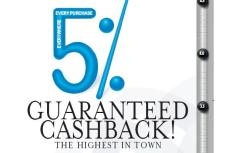 Abu Dhabi, January 6, 2008- Finance House PJSC has elevated the Credit Card Rewards Proposition in the UAE to an unprecedented high, with the launch of an eye-popping "5% Guaranteed Cash back" offer on its full range of Standard, Gold & Platinum MasterCard credit cards.
Under this new reward scheme, successful credit card applicants can enjoy a whopping 5% guaranteed cash back on all their purchase transactions during the first 90 days of obtaining the Finance House Credit Card, followed by a 1.50% guaranteed cash back on all their purchase transactions thereafter.
All genuine purchase transactions made using the Card- whether in the UAE or abroad, at physical merchant locations or through internet, whether on the Principal or Supplementary cards are prima-facie eligible for Cash back. The cardholder has complete freedom to use the Card for any purchase transaction, anywhere in the world, in order to maximize his/ her rewards earning potential.
According to Mr. TK Raman, Chief Operating Officer of Finance House "Since inception we are focused on creating innovative product propositions that offer outstanding value to customers in pre-identified niche market segments. Loyalty is a two way street. If we expect customers to use our products & services over competitors', then we have to first exceed their expectations in terms of tangible value & rewards structure. This is precisely what we have done with this incredible, customer centric value proposition."
The maximum annual Cash back reward is AED 3,300 per Platinum Card, AED 2,400 per Gold Card and AED 1,650 per Standard Card. Considering that there is no annual fee for the Card, these Cash back reward limits are extremely generous and the scheme is expected to generate an overwhelming response from value conscious UAE residents.
The reward structure is simple & transparent due to "one guaranteed cash-back rate" for all purchase transactions, instead of confusing tiered structures based on spend levels or limited application to select merchant categories. Cash back earning & redemption procedures are hassle-free and fully automated. Cash back earned & due is periodically credited to the cardholder's account, thereby eliminating the additional burden of initiating cash back redemption procedures. Other attractive features include no compulsion to carry revolving balances on the Card, low interest rate of just 1.25% per month on balance transfers with no prepayment penalty and an exclusive 13 months Comprehensive Auto Insurance cover starting from just 3.25%."