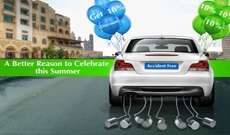 Abu Dhabi, 04 July, 2012- Insurance House PSC (IH), has announced the launch of its summer promotion, offering customers a 10% discount on Comprehensive Motor Insurance by simply keeping their car accident free.the new promotion encourages drivers to drive more safely by giving them motivations and rewards.
Mohammed Othman, General Manager of Insurance House said: "Our new promotion is a reflection of our continuous effort to offer the best insurance services, in addition to our "customer-centric" key-philosophy that put our customers needs on top of our priorities".
"We believe at IH that such business initiatives can provide a double benefit for both the society and customers, and this promotion has been placed to empower our responsibility towards the society by rewarding the drivers who keep their cars accident free which aims to decrease the accidents in the country," concluded Othman.
Through its growing branch network in Abu Dhabi, Dubai and Sharjah, Insurance House offers a wide range of insurance products and services designed to provide valuable solutions to institutions as well as individuals across the United Arab Emirates, meeting international standards in compliance with the local requirements ranging from, conventional to specialized insurance solutions with a strong focus on minimizing costs and expenses and delivering comprehensive services.